VOLUNTEER FOR THE SDG HUB PROJECT
– Start with 9 hours/month, and a trial experience of 1 month
– Volunteer from home, online, while abroad or abroad traveling. or meet us in the netherlands at projects locations.
BENEFITS
– Gamified Training on PT-Theta Tools for leadership and holistic strategic management
– Gift certificates for books, coaching and training.
– Internship opportunities, Job positions for interns
– Become a SDG entrepreneur, CXO Program
Volunteers open positions will be announced at our FB BENELUX & ONLINE VOLUNTEER Page and at the LDMF Foundation FB Page.
If the reader is interested into volunteering, and find not a volunteer position according to own interest, may contact us by the web message and start a volunteer in tasks that has not been announced. We always appreciate volunteer collaboration and have indeed much work to do for which volunteers collaboration is praised.
Evaluation Process
As any serious organization, along a first season volunteers candidates will be evaluated with simple tasks. Intentionality is not enough. Volunteers must demonstrate skills and ability to act tangibly. For this purpose the COLLABORATION ABILITY 9+ Score line has been published in this page, which describes a list of 9+ stages of development of a volunteer.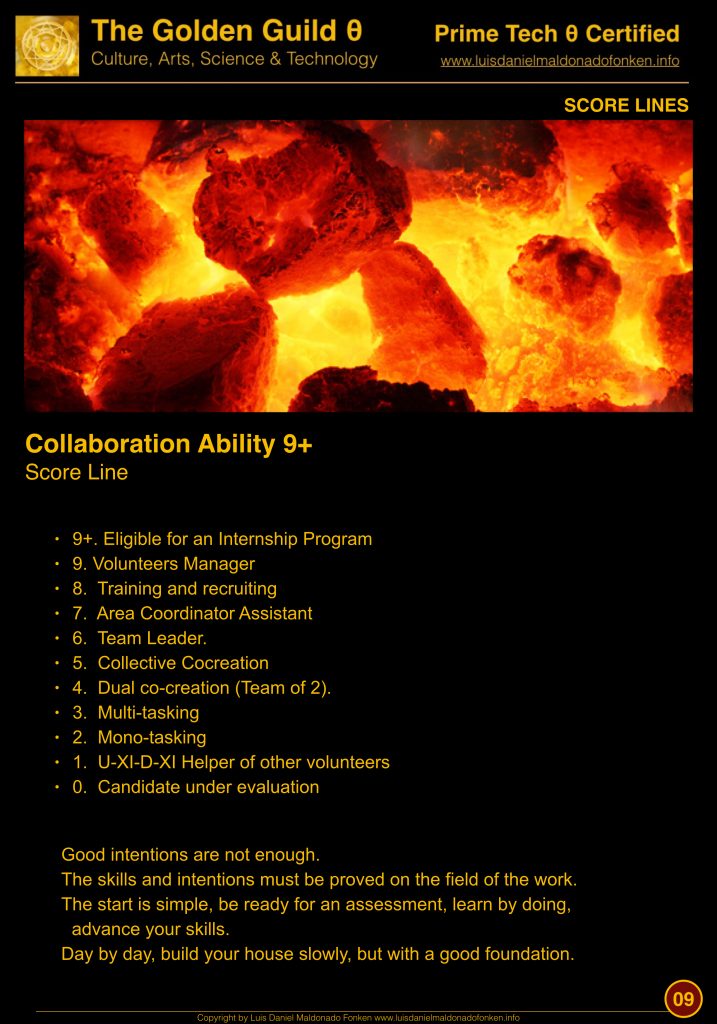 The first indicator for us that a volunteer is serious is the correct use of time, accomplishing tasks assigned and doing what they tell intent to do in the correct and ideal time for the THETA Foundation.
As well volunteer ability to follow instructions, learn, and engage into self-knowledge and personal developmet, as well the ability to participate in our gamified volunteer program will be evaluated.
In January 2017 we have added one more important indicator for a volunteer candidate to become eligible: candidates should know how to read documents, publications and find the information given there, which is related to the tasks assigned to them. In particular, for purpose of application to a volunteer role, candidates should be able to read the urls given and find the necessary information related to their questions in those documents, otherwise ask the necessary questions.
All of these steps are necessary, as for we perceive volunteer roles as those dedicated to introduce candidates to internship, team members later, to job positions in our projects to projects or area of project managers in the future.
There for a volunteer may be interested to learn, play, enjoy and collaborate, a purpose that is always welcome. While most of our resources and attention will be given to those volunteers that demonstrate the skills and attitude requiered and mostly to those interested and capable to demonstrate tangible that wishe for an opportunity and complete qualifications to be eligible for an internship place.
Volunteer Agreement
Volunteers need to agree in principle with the policy, culture, operational guidelines and foundation aims and goals, mission statement of the THETA Foundation (Stichting LDMF) registered in the Netherlands, as well with the privacy, know how protection policy.
Application Process & Skype Interview
The evaluation process starts with an intentional letter send by e-mail, which should inlcude CV, reasons why the candidate wishes to volunteer for the Theta Foundation main projects or topics of interest. A skype interview of 9 minutes will be scheduled if eligible. A brief assessment will be made through questions and answers. If eligible, the LDMF Foundation will send to the volunteer e-mail address a register document form and the first tasks.